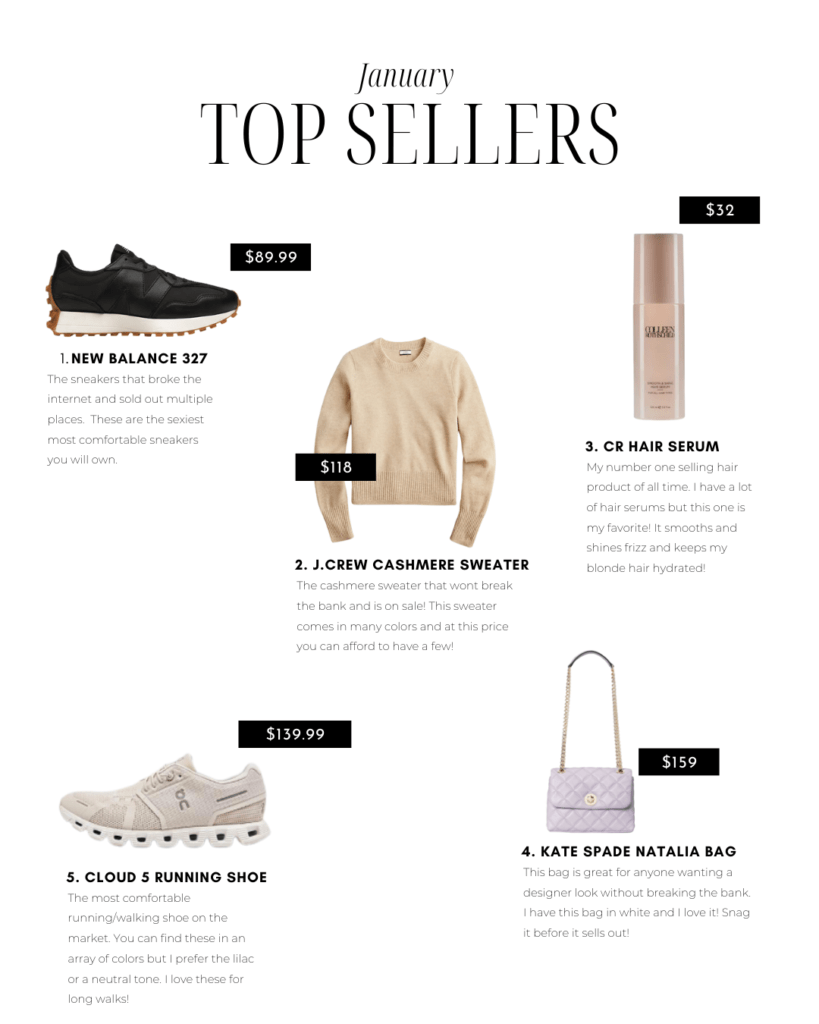 NEW BALANCE 327 SNEAKERS || The most shopped item of the month and maybe that I have ever shared are these New Balance 327 sneakers. I shared them in my Friday Haul on YouTube and they sold out! We kept selling them out and finally I think most of you got your hands on them! I love the sexy vibe but they are still casual and comfortable! They come in a lot of different colors but the black are my favorite! These run true to size!
J.CREW CASHMERE CROPPED SWEATER || My most worn sweater of the winter season! I love the crop on this sweater because its not too short. It is flattering and comes in many different colors! I have the black tan and pink. This is such a great price for a cashmere sweater too and its usually on sale!
COLLEEN ROTHSCHILD HAIR SERUM || The CR Hair Serum is my favorite hair serum. I use this serum every day to keep my hair smooth and hydrated. I use it when my hair is wet and when it is dry and needing a little moisture. I love using it on my ends so they stay frizz free and shiny!
KATE SPADE NATALIA BAG || I bought this Kate Spade handbag when my family and I went to the outlets a few weeks ago. I love this bag! It is reminiscent of a high price designer bag for a fraction of the cost! I bought it in white but it has since sold out. I am linking it in this beautiful lilac for you!
CLOUD 5 RUNNING SHOE || I was surprised to see one of my best sellers from the Nordstrom Anniversary sale were the On Cloud sneakers I bought for Brooke. I decided to get myself a pair for the spring for my daily walks! I have to say they are very comfortable and at a great price! They recommend sizing up half a size. There are many different colors so I will link my favorites!
Thank you for stopping by to see your January favorites and the most shopped items of the month. I enjoy seeing what you all are liking and its usually pretty spot on with my favorite things! Let me know what your favorite purchase was this month! I would love to hear from you in the comments. You can watch my most recent YouTube video recreating the Pamela Anderson makeup look here. Thanks for reading! xoxo ~Lisa
Follow us